30 August 2022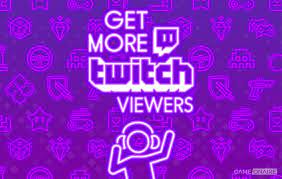 Twitch is a live broadcasting platform followed by professional players and viewers from all over the world. The main function of this platform is to create interaction by enabling anyone with a talent or screen, especially tournament players such as e-sports players, to broadcast live. For Twitch, we can briefly call it the social media of the players. Because on this site, you can correspond with the publisher and support him financially. The expectation of every broadcaster is to be watched by more viewers and thus to increase the number of subscribers and followers. Every publisher puts serious effort into their publications and wants to earn money in return. For this, you must first increase your twitch viewer count. Then your number of followers and subscribers will increase over time. So how can we do this? You can find the details at the bottom of the article.
How to Increase Twitch Viewers?
To be featured on Twitch, to be followed and talked about by more people, the most important thing you should do before the tactics we will give below is to broadcast consistently. All publishers who patiently continue their broadcasts have somehow acquired their audience and are now regularly making money. Many twitch streamers have quit their main job and have taken up broadcasting as a profession, so this is how they make a living. If you want to be one of them, then what you need to do is to stubbornly continue your broadcasts without saying that my audience is low. Over time, you will become more recognized and followed.
Interact with the Viewers
If you want to increase your Twitch viewership in a short time, always interact with the people who follow you. What we mean by interaction is that the broadcast title is determined as a striking title, the questions asked by the viewers are answered in a short time, the broadcast delay is not prolonged, and you thank those who follow your channel. This type of gracefully indicates that viewers are on an active channel and allows them to watch more and then subscribe to you. Therefore, turn your head often and check the comments from the twitch broadcast panel and keep the status of your chat under control. If you encounter too many questions, you can assign moderators to manage the conversation.
Reward the Audience by Organizing Sweepstakes
You can increase the interaction on your channel by organizing raffles and tournaments that are private to your channel's subscribers or open to everyone watching. You can also grow your social media accounts in a short time this way, as people will try harder to win prizes. As the affiliation of the viewers to that channel will increase in raffles and tournaments, your number of followers and subscribers will increase in the long run. As a reward, you can distribute Steam gift codes, game keys, in-game gifts and player equipment such as keyboard, mouse, headset, mousepad. If you do not have enough budget for these equipments, then you can try to procure products through sponsorships.
Fill Your Channel Information Completely
A twitch viewer who comes to your channel will first open your profile tab and want to learn about you. When you look at the major broadcast channels, you will see that all of their profile information is full. For this reason, write here everything that the audience may be curious about, including the components of your system, your personal characteristics and resume, the games you play, contact information, social media links, a list of donors, major organizational achievements such as tournaments, if any. Customize the channel even more by getting your own custom designs made. All of this is to give the impression that this channel is a live channel.
Twitch Audience Pro. Wants to Act
Games such as PUBG, Fornite, Apex Legends, GTA 5, LoL, Dota, Overwatch, CS: GO are the most watched games by Turkish viewers. Playing one or more of these games at a professional level and playing successful matches will increase the viewing pleasure of the audience. After all, those who watch you are watching that game not just because you are playing it, but for you to have a pleasant time and teach them something. Especially if you play FPS games such as PUBG well, it will allow you to stand out from your opponents in a short time. The best examples of this are Mithrain, 10000DAYS channels.
If you are successful in these games, you can create video series by compiling your best moments on Twitch and upload them to your youtube channel. So it is very possible to rise on both platforms. You can use Youtube to develop your Twitch channel and audience, as it has many more visitors than Twitch. Both social media sites allow monetization. However, there is no subscription and donation system on youtube yet.
Increase Your Equipment and Internet Power
Your computer hardware, equipment such as headphones, cameras, monitors, mice, keyboards will help you perform better in gaming. A good gaming headset will make it easier for you to hear the footsteps of your opponents.
A good camera, on the other hand, allows the viewers to get better quality images while broadcasting live. You can buy all these equipment with donations and subscriptions.
Internet connection is the most important factor that makes twitch live broadcasts quality. If problems such as freezing, pausing or completely interrupting a broadcast are experienced frequently, this will negatively affect your follower count and your instant twitch viewer count will decrease. In order not to encounter such bad situations, you should have a high upload value and a stable working infrastructure.